Dumpster Rental Biloxi MS
For the most trusted dumpster rental Biloxi MS has to offer, choose our high-quality and dependable selections from D&H Dumpster Rentals. Our team of professionals is here to help you with your waste management and disposal needs. Whether you're looking for a short- or long-term rental, you'll find we have what you need to get your job done. Our 5-star reviewed team is ready to help with your decluttering or remodeling project or to provide dependable waste containment at your business. Whatever your needs are, we're here to help.

We proudly deliver to Biloxi, Mississippi, and the surrounding areas of Jackson County. Through the years, we've helped our customers with various projects, providing dependable service to homeowners, contractors, municipalities, and businesses. We have the perfect dumpster rental Biloxi MS can rely on that will save you time and money and help you accomplish your goals of managing waste and debris in no time! We take immense pride in making your cleanouts as hassle-free as possible. We prioritize you, our valued customer, and your needs above all else, ensuring your journey to a clutter-free space is smooth and efficient.

As industry leaders, we bring a blend of reliability, eco-friendliness, flexibility, and affordability to our dumpster rental services. We aren't just here to deliver the dumpster rental Biloxi MS can count on; we're here to partner with you to support and understand your project's unique demands. Our aim is to transform what might seem like a daunting task into an opportunity for a fresh start. Choose D&H Dumpster Rentals - not just as a service but as your trusted ally in waste management.

We're a locally owned and operated, fully insured company that you can count on. Give our team a call at (228) 281-3452 to learn more about how our dumpster rental Biloxi MS depends on can tame and dispose of your trash and debris in a streamlined and affordable manner. Use our online scheduling system anytime during your busy day to book a waste container to complete a range of projects efficiently today. To begin your journey to a clutter-free space with us, just give us a ring, drop us an email, or use our online booking platform. We're always here, eager to connect with you and get your project off to a great start with the dumpster rental Biloxi MS chooses first!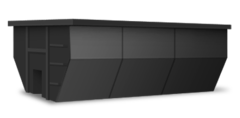 Dimensions
16'L x 8'W x 5'H
Included Tonnage
3 included
Additional Days
:
$10/day
Extra Weight
:
$50/ton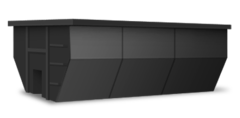 Dimensions
22'L x 8'W x 4'H
Included Tonnage
5 included
Additional Days
:
$10/day
Extra Weight
:
$50/ton
We Take Just About Everything
Some examples of the junk we haul away include:
Refrigerator Disposal

Garbage Removal

Mattress Disposal

Foreclosure Clean Outs
Construction Waste Removal

Yard Waste Removal

Trash Removal

Appliance Removal
Television Disposal & Recycling

Furniture Removal

E-Waste Disposal

Hot Tub Disposal
Many Uses for the Roll Off Dumpster Biloxi MS Depends On
Our multi-use roll off dumpster Biloxi MS counts on to complete various projects is the tool you need to finish any residential or commercial job with ease. We're confident that our durable, high-quality container selections will be an invaluable part of clearing waste, removing bulky materials, and getting the job done quickly and efficiently. Clear away years of junk and clutter at home, remove yard debris, and dispose of furniture and appliances in one easy step. With an Biloxi MS dumpster rental at hand, you'll have all of the necessary tools to remove unwanted items from your household. With our experienced team at your service, there's no need to worry about how you'll get rid of waste from a residential or commercial remodeling project. Our experienced crew will deliver a roll off dumpster Biloxi MS homeowners trust to your location in a professional and timely manner. We provide stress-free and affordable dumpster rentals Biloxi MS and surrounding areas use for countless repair, remodeling, demolition, construction, and clean-out jobs. Whether it's a driveway demolition, office park clean-out, commercial roofing repair, or furniture removal, we have the most dependable service and equipment in the area.

We ensure that all of your trash and debris is disposed of properly by partnering with the Jackson County Solid Waste Transfer Station to abide by all city, county, and state regulations, so you can rest assured that when you book a dumpster near me Biloxi MS depends on from our team, your waste will be disposed of in an ethical and environmentally friendly manner. Don't hesitate to contact our helpful support staff with questions about booking a waste management Biloxi MS dumpster roll off for any residential or business need. We're here to help, so give us a call at (228) 281-3452 or book online in minutes now!
Residential Dumpster Rental Biloxi MS Homeowners Can Trust
Take the overwhelm out of your home project and schedule a residential dumpster rental Biloxi MS homeowners trust most! Whether you're planning a whole house cleanout before a move or removing clutter and unwanted items to prepare for a remodel, we have the perfect tool. As a homeowner, partnering with D&H Dumpster Rentals can make your home improvement projects an absolute breeze. Whether you're embarking on a grand renovation, doing a simple spring cleanout, or finally tackling that overfilled garage, we're here to provide an easy, cost-effective solution. Our diverse range of dumpster sizes caters to any project, big or small, and our dedicated team is always on hand to ensure you find the perfect fit. With D&H, you don't just get a dumpster; you get a friend in the business, guiding you towards successful and satisfying project completion. Let's create a cleaner, more spacious home together with our high-quality and cheap dumpster rentals Biloxi MS uses as a budget-friendly solution to disposing of junk.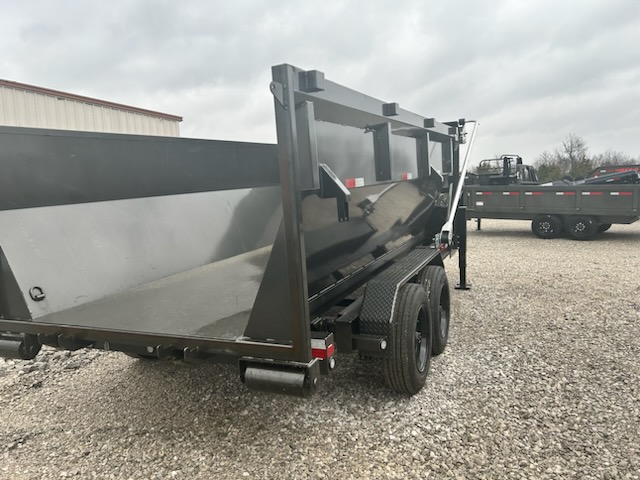 We offer the best dumpster rentals prices Biloxi MS can provide, so you don't have to worry about breaking the bank when you clean out your garage, basement, attic, closets, and cupboards. Book a driveway-friendly dumpster roll off Biloxi MS depends on to handle the debris all at once.
Biloxi MS Residential Dumpster Rental for Yard Waste
Our Biloxi MS residential dumpster rental for yard waste makes quick work of any outdoor project on your to-do list. If you need to remove debris from your yard, whether from storm damage to trees, fencing, or furniture, our easy-to-load bins make it convenient and affordable. With our Biloxi MS roll off dumpster rental prices and generous rental periods, you'll accomplish your landscape refresh, garden cleanout, trim your shrubs, and dispose of playground toys and furniture in one easy step. Improve the look and value of your home and yard with a dependable yet cheap roll off dumpster rental Biloxi MS can count on from our local company. You'll be amazed at how affordable it is to clear the junk for a more enjoyable outdoor space!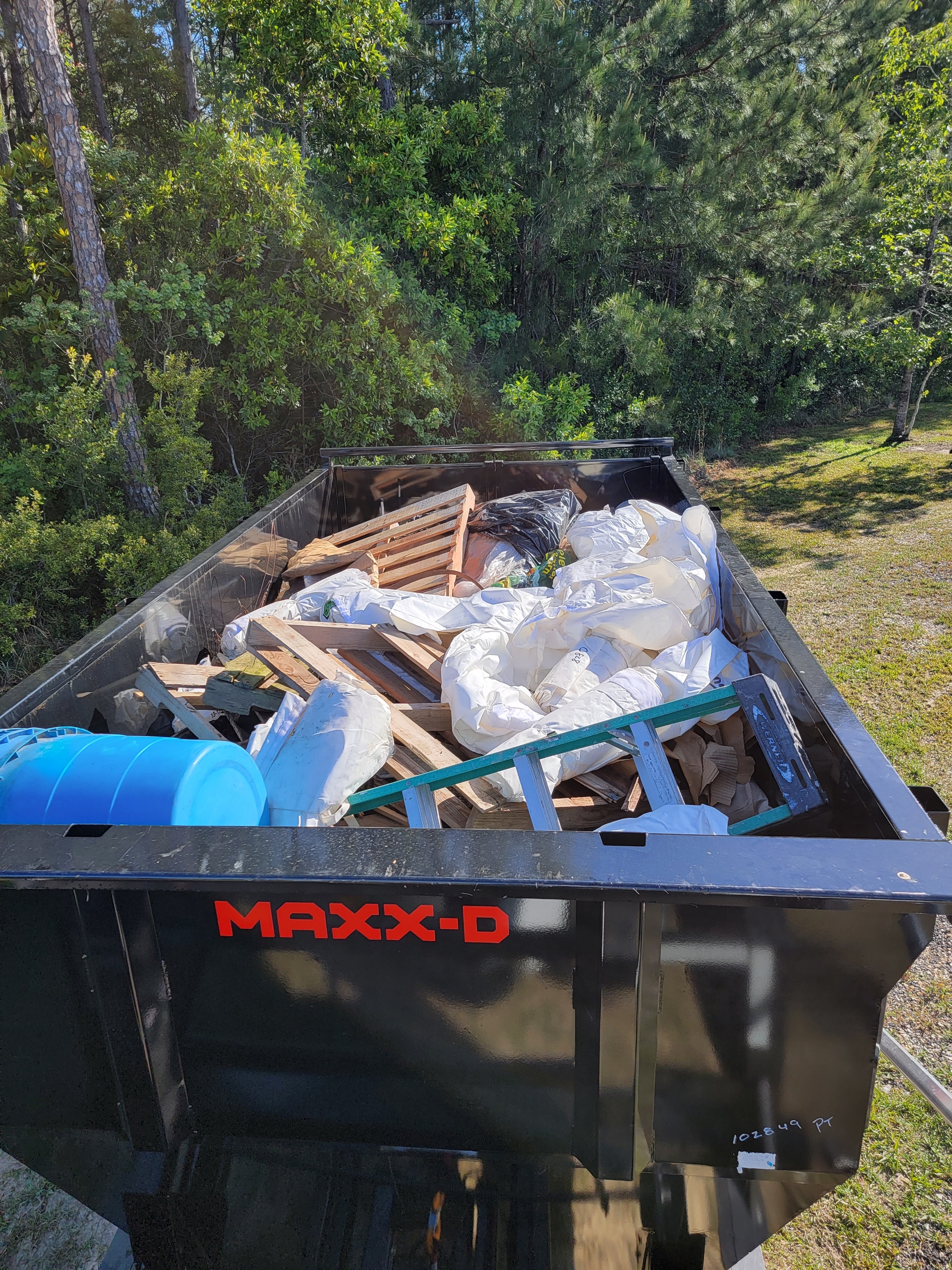 Construction Dumpster Rental Biloxi MS Contractors Trust
Book the construction dumpster rental Biloxi MS contractors use as the go-to waste disposal method to manage waste on a wide range of job sites. Whether you're involved in new construction or demolition, we offer heavy-duty equipment that you can rely on to keep your site safe. With an industry-leading 20 yard roll off dumpster Biloxi MS and surrounding areas depend on at the job, all of your bulky, potentially harmful materials are contained, ensuring a streamlined and safe work site.

You can count on us for responsive service to your ever-changing schedule and waste containment needs. Give us a call, and we will pick up your filled Biloxi MS construction dumpster rental and swap it out quickly if needed. We work with you to keep you on schedule, create a safe work site, and keep your budget intact. You'll appreciate the convenience of our online scheduling for quick and easy booking and the reliability of our team's delivery and pickup, ensuring a smooth and successful job site for you and your crew.
Dumpster Biloxi MS Roofers Rely On For Repairs and Replacements
For a reliable dumpster Biloxi MS roofers count on for all of their debris from roofing replacements and repair projects, D&H Dumpster Rentals is the top choice. Your needs are met with a superior dumpster rental near me Biloxi MS can trust. Our durable containers are built to withstand a range of roofing waste, including tile, shingles, metal, nails, underlayment, and general debris. As a construction professional, you need debris containment that you can count on to keep the area surrounding the job free from bulky, potentially harmful materials.

Our large dumpster rentals Biloxi MS uses for heavy-duty waste disposal provide you with dependable debris containment and removal, keeping your project on track and under budget. Keep your job moving forward in the most efficient manner with our local team on your side, providing you with stellar service and great roll off dumpster rental prices Biloxi MS roofers appreciate. Book immediately online, or give us a call at (228) 281-3452.
Biloxi MS Garbage Dumpster Businesses Count On Year Round
Area businesses count on us for Biloxi MS garbage dumpster services that never disappoint them. When you partner with us, you can check trash management and disposal off your list. Give us a call and talk with a member of our team. We don't approach our customers' needs with a one size fits all attitude; we will tailor our trash dumpster rentals Biloxi MS and surrounding areas utilize to your particular business needs.

With our big dumpster rentals Biloxi MS businesses trust, you'll never have to worry about an overflowing bin. Keeping trash and debris out of sight and removed on your schedule is our job, and we take it seriously. Our drivers are professionals and will ensure the safe delivery and pickup of our heavy-duty 20 yard dumpster Biloxi MS restaurants, stores, shops, municipalities, warehouses, factories, and office parks rely on. At D&H Dumpster Rentals, we're committed to providing our commercial clients with dependable, efficient waste removal services, ensuring your operations stay streamlined, your workspaces stay tidy, and your focus stays on driving your business forward.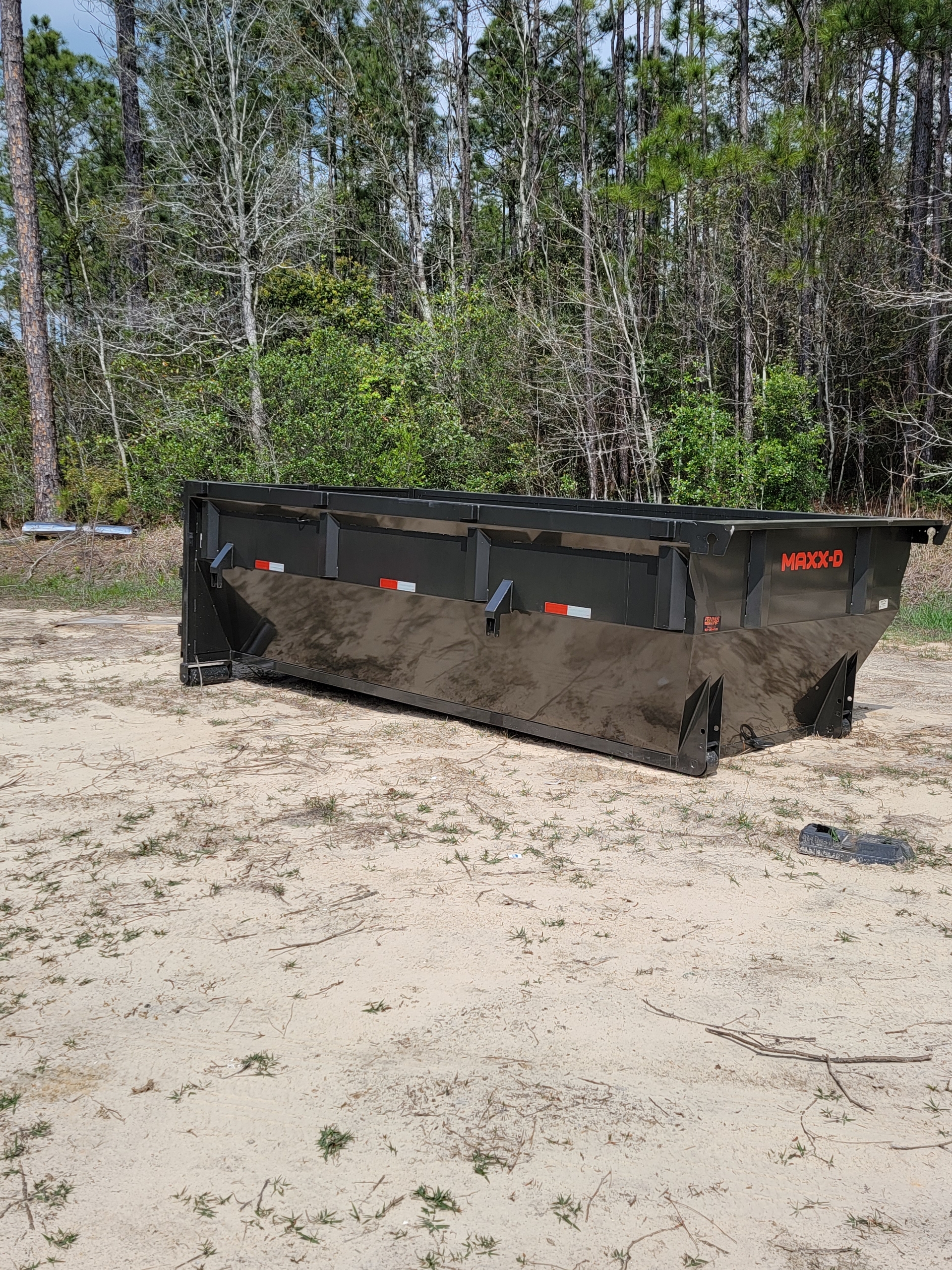 Why Choose Us For an Biloxi MS Roll Off Dumpster Rental
D&H Dumpster Rentals is the team for you when choosing an Biloxi MS roll off dumpster rental that will affordably meet your needs. Our 5-star service and industry-grade equipment will take the stress out of any project at your home, business, or work site. We work diligently to assist our valued customers with project goals and ongoing trash disposal needs. With guaranteed on-time delivery and flexible scheduling options, you'll find that we are the top choice in the area! Choose D&H Dumpster Rentals and discover not just a service provider but a partner that delivers impeccable, personalized service, transforming your waste management task into a journey towards a fresher, cleaner space.

Our equipment is sourced from top manufacturers to ensure that your Biloxi MS roll off dumpster rental will exceed your expectations of reliability and durability. Our containers are built to last and will handle anything you toss into them. Take a look at our size options and book your bin using our website in a matter of minutes. Get in touch with our staff directly by giving us a call or by submitting the "Contact Us" form. Work with our team and complete your residential or commercial project right the first time!


How to Rent an Biloxi MS Dumpster for Every Project
Take the next step in completing your job and rent an Biloxi MS dumpster from our professional local company. We have worked to make the process as simple and streamlined as possible with our state-of-the-art online booking system. It takes just minutes to schedule your waste disposal solution using our secure online tool.

Follow the steps below to reserve your Biloxi MS dumpster today:

1) Click on the "Book Now" button on any website page. Choose your size from our selections and click "Book Now" next to your choice.
2) Review your size selection's price, size, tons included, and rental period, and "Add to Cart."
3) Select your service type and click "Continue."
4) Using the pop-up calendar, select your rental dates.
5) Review the total for your rental and click "Checkout."
6) Complete the form with your contact and billing information, dumpster placement information, and a brief description of the junk you're disposing of, and click "Continue."
7) Enter your payment using any major credit card.

Booking with us is that easy! You'll receive verification of your Biloxi MS dumpster rental via email, along with a digital receipt. We will reach out to you before delivery to confirm the drop-off window and placement of the container. With just a few simple clicks on our user-friendly online platform, booking your dumpster rental with D&H is a breeze, so you can focus on what truly matters - your project.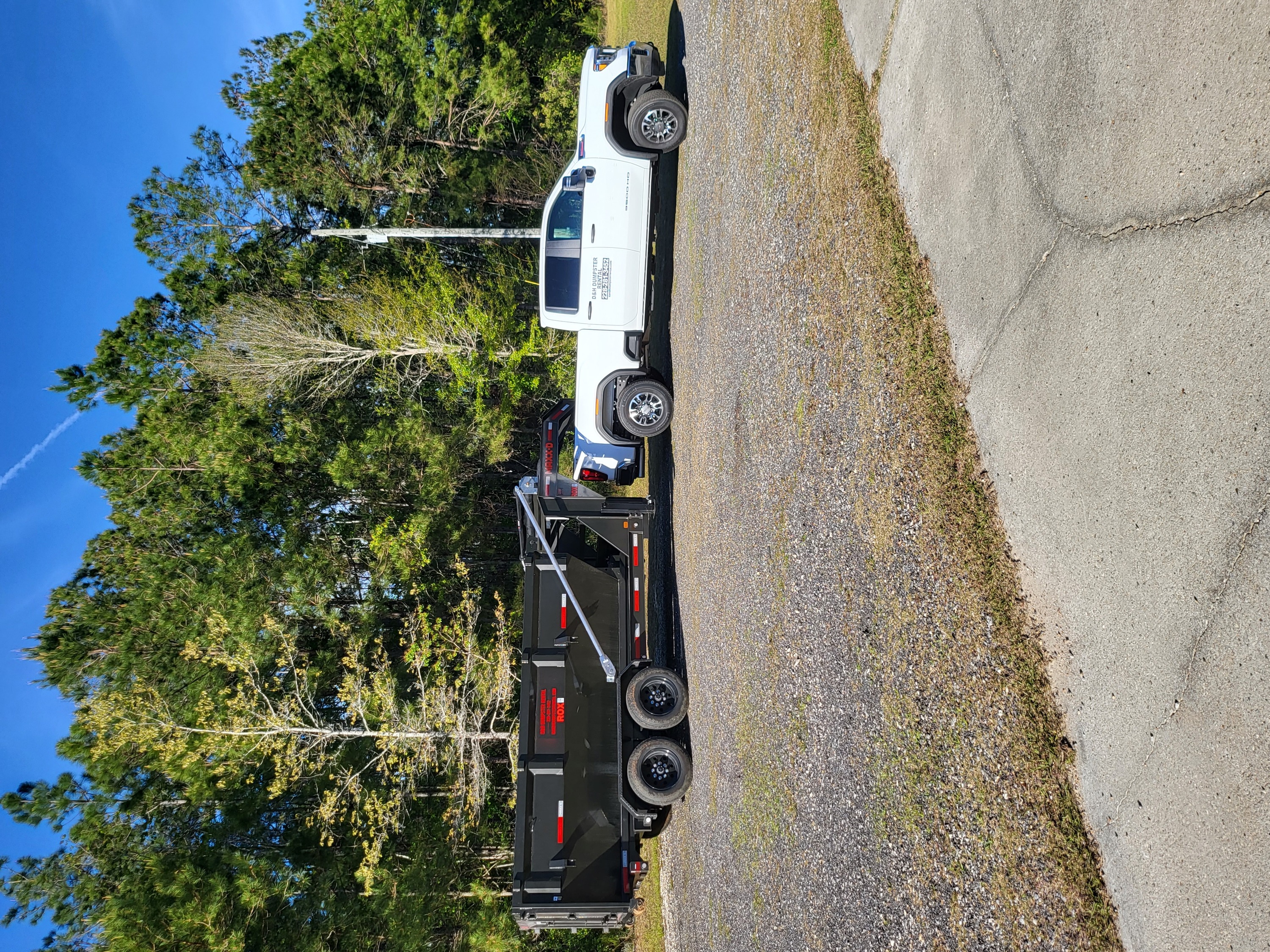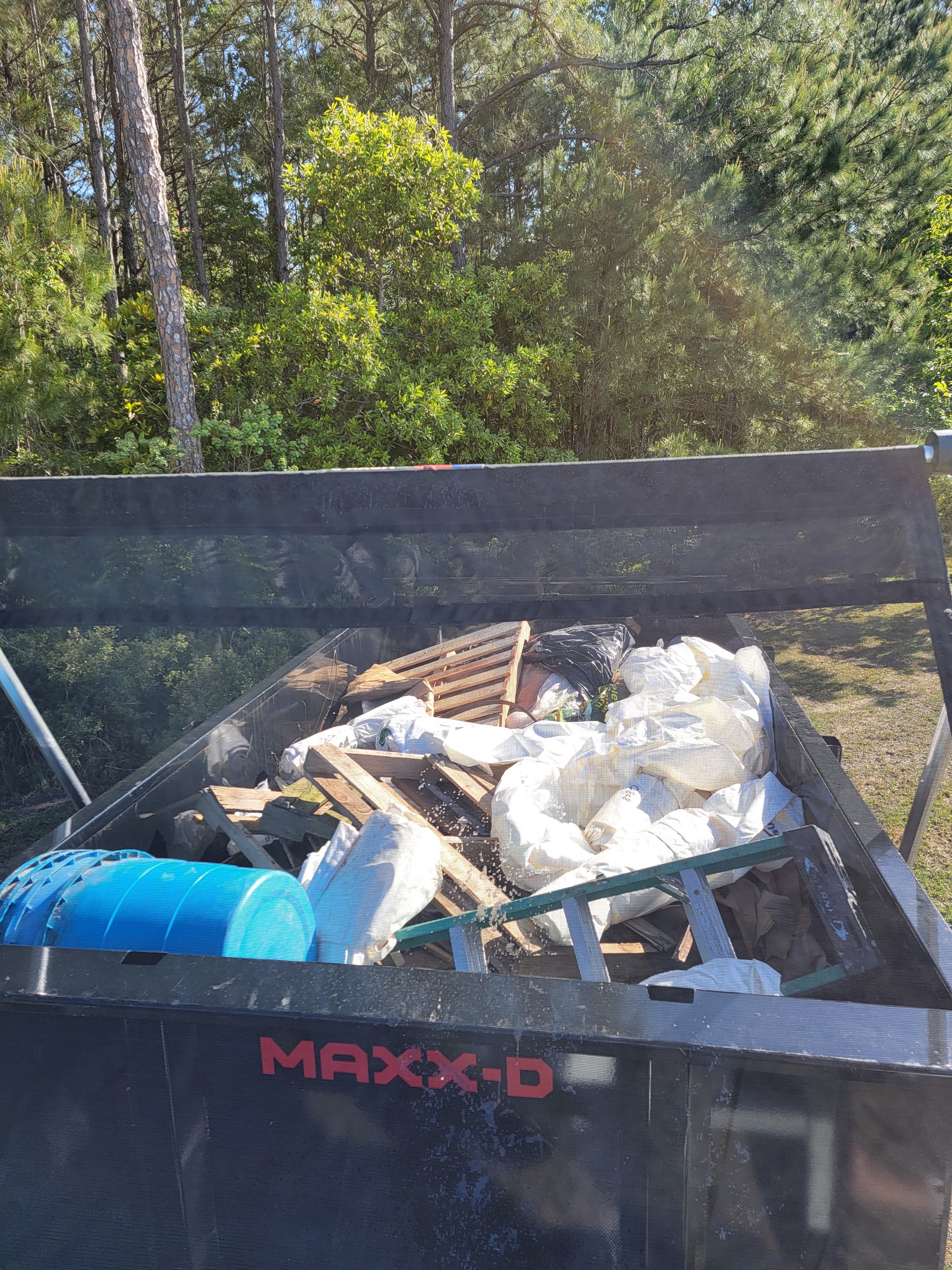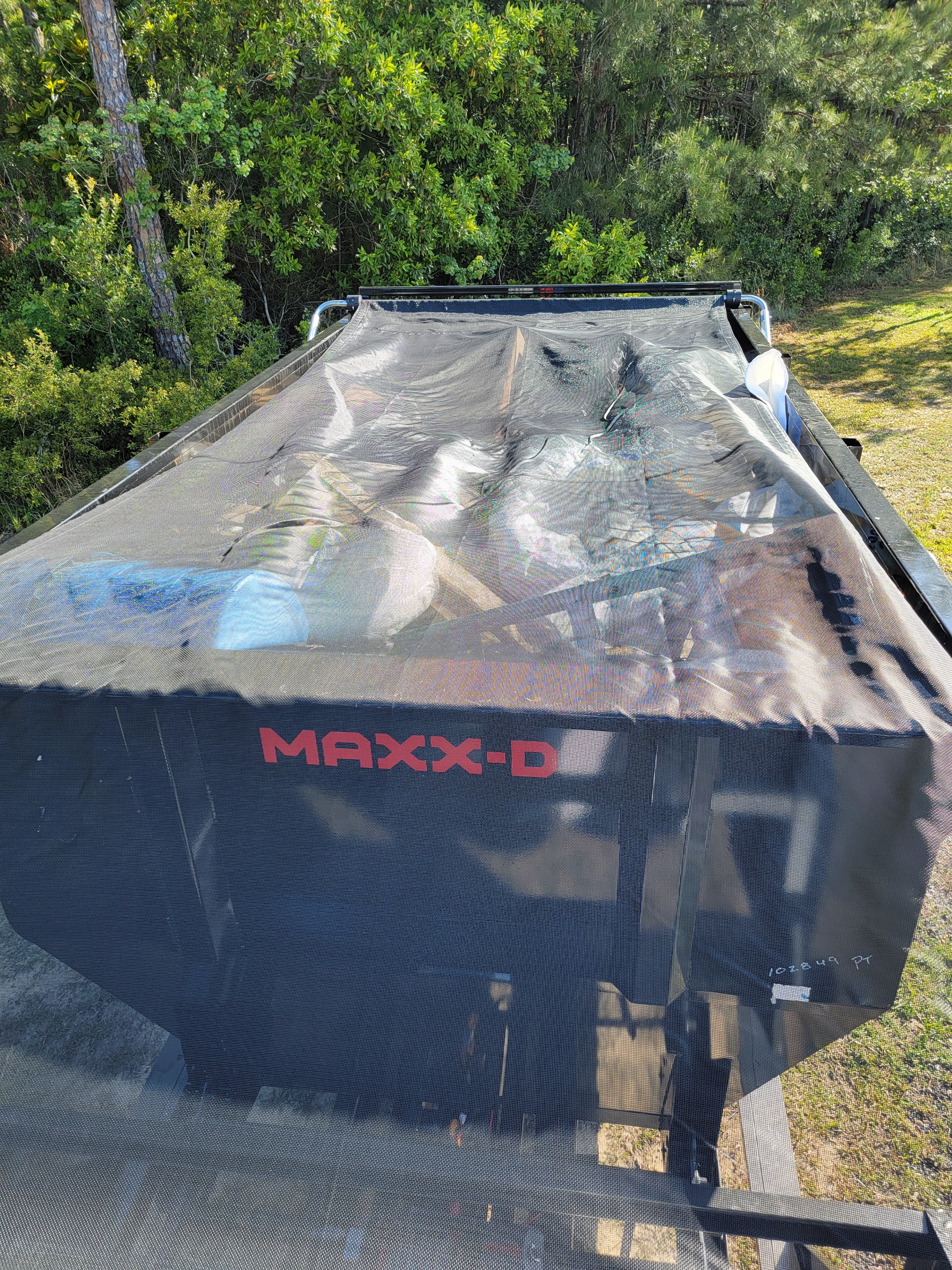 Biloxi MS Roll Off Dumpster Sizes and Prices
We are confident in meeting our customers' needs with our Biloxi MS roll off dumpster selections, and we have the track record to prove it! Whether for homeowners, contractors, property managers, or businesses, our service and equipment are unparalleled in the area. We offer two versatile sizes that meet the needs of most projects. Look at our sizing options below and book your roll off dumpster rentals near me Biloxi MS can count on online today.

15 Yard: Measuring 16' L x 8' W x 5' H, this container includes three tons of debris disposal at a base price of $400. This includes up to fourteen days of rental time, with additional days available for purchase at $30 per day and extra weight at $50 per ton. For most residential projects, this is the ideal size for cleanouts, renovations, and repairs.
20 Yard: Measuring 22' L x 8' W x 4' H, this container includes three tons of debris disposal for $450. With a base rental time of up to fourteen days, additional days available at $30 per day, and extra weight at $50 per ton, this option is perfect for larger-scale commercial and residential needs. Give us a call with any questions regarding sizing options for your project, and our team will be happy to help!
Delivering Options for a Durable Dumpster Rental Near Biloxi MS
We have a drive and passion for keeping our communities waste-free and looking their best. We partner with area residents, businesses, contractors, and the Biloxi Public School District to ensure smooth, stress-free waste management year-round. Our area boasts some amazing parks and landmarks that are served by our team and are enjoyed by area residents and visitors to our region. Hiller Park, Miramar Park, and Point Cadet Plaza are lovely to visit, while the Beauvoir, Biloxi Lighthouse, and Ohr-O'Keefe Museum of Art are sources of pride for the area because of their rich historical and cultural value. We take great pride in keeping our city beautiful and enjoyable while maintaining waste-free spaces.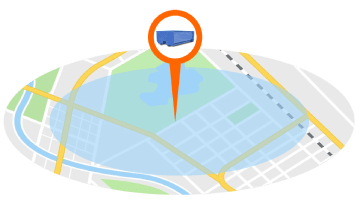 Our dumpster rental near Biloxi MS is key to your successful residential or commercial project. We deliver our superior selections to a wide scope of Harrison County, including the 39530, 39531, 39532, and 39534 zip codes. Our service area includes Ocean Springs, Pascagoula, St. Martin, Vancleave, Gautier, Escatawpa, Diberville, Moss Point, Hurley, Biloxi, and Gulfport. Looking for the #1 dumpster rental Gulfport MS has to offer? We're here to help! If you don't see your area listed, get in touch with our team to see if delivery in your city can be arranged.
View Service Area
FAQs About Our Roll Off Dumpster Rental Biloxi MS
Our roll off dumpster rental Biloxi MS homeowners and businesses count on for their waste management needs is supported by our excellent team of customer support staff. We happily answer your questions with experienced-backed answers and advice.

We understand that you have a choice when it comes to a roll off dumpster rental Biloxi MS uses for a wide range of projects, and we look forward to helping you accomplish your goals. Take a look at a few frequently asked questions below and get in touch with our team if you need any additional information.
Q.
How can I rent a dumpster?
A.
We make reserving a dumpster for your debris disposal simple. We have two methods that are quick and easy. Click the "Book Now" button to use our secure online booking system. Or give us a call at (228) 281- 3452 to speak directly with a member of our staff, and we can schedule over the phone.
Q.
Do I need to be present for delivery?
A.
No, as long as we have good directions and placement information and there is a clear path to the drop off site, we will deliver the container without someone present.
Q.
Can I dispose of appliances in the dumpster?
A.
Yes, you can! TVs, stoves, microwaves, refrigerators, hot tubs, and more are acceptable. Our durable dumpsters will handle all of your appliance, furniture, and trash disposal needs. Call us with any specific questions about what we can and cannot accept.